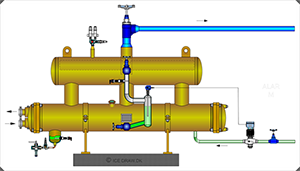 Refrigerant control
Apart from the sensor that performs level measurements, the control technology is also important. HBLT-C1 is designed exclusively for industrial refrigeration systems. It is programmed with refrigeration knowledge...
With our unique products, we can offer depending on the application, two different control solutions: a decentralised option or a centralised alternative.
Decentralised control:
Analogue level measurement and direct control of the refrigerant level in coolers, separators, etc., with an HBLC Liquid Level Control sensor. In this sensor, the control logic is integrated into the microprocessor-based electronics, and it is designed for direct control of all types of modulating motor valves. The simple set-up is easily carried out via a PC-based program.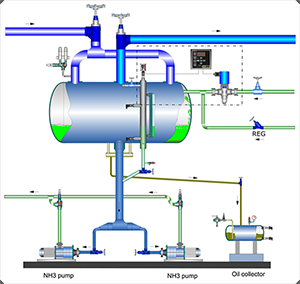 Centralised control:
Refrigerant control and refrigerant level display in any type of tank with the "HBLT-C1 - Controller for level transmitter" controller type. The controller can easily be connected to the level transmitter, HBLT-A1, but it is also suited for other 4-20mA transmitters. Setup of this controller takes place from the front of the display.
If the products discussed above do not meet your specific needs, or if you would like a customised variant, please contact us! We work closely with a number of our customers regarding the development and refinement of sensors and controllers.
Which of these you choose is not critical but to make the proper regulation is essential for the efficiency of the plant. Read more about best practice when a new industrial cooling plant should be designed. You can also find relevant informations about basic design rules for piping installation in industrial refrigeration both in connection with refrigeration level regulation and piping in general.