Case Studies and Articles
Vapor Quality Sensors are being tested at Ghent University
At Chillventa in 2018 HB Products launched a new revolutionary HBX Vapor Quality Sensor which can optimize the evaporator control and eliminate super heat.HB Products has tested the Vapor Quality Sensor on a trans critical CO2 refrigeration system and compared the results with a system controlled by a conventional super heat controller and the results are clear.
"With a system controlled by a Vapor Quality sensor it is possible to raise the suction pressure with 8 K and save up to 20 % energy compared with a system with conventional super heat control", Michael Elstrøm, Director & Technical Manager at HB Products said.
To get a third party verification of the striking results HB Products has entered into collaboration with Gent University in Belgium, who will perform several tests on the Vapor Quality sensor.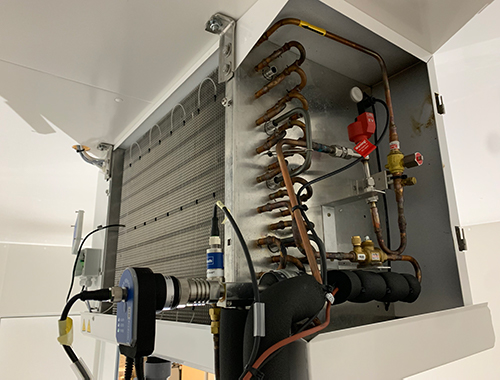 A Vapor Quality Sensor installed in an evaporator at the laboratory at Ghent University
The article is published in Refrigeration Industry. Read the full article here