Ammonia gas leak detection with 5 years stability guarantee!


HBGS, which is the name of the new leakage sensor, is based on the newest technology within gas measurement. The sensor is designed for leakage measurement of NH3 refrigerant in industrial refrigeration systems. It can be installed in/by:
The machine room
The cold storage room
The air-conditioning system
The chiller system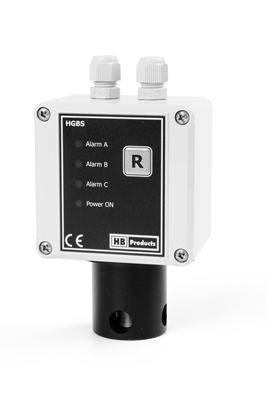 The sensor differentiates itself from other sensors on the market by having a measurement head that is stable in the long-term. HB Products guarantees stability for a period of 5 years. The sensor element can easily be replaced after 5 years and does not require calibration. On the front, 4 LEDs are integrated to display the supply (green) as well as 3 alarm levels (red, orange, and yellow). There is also a reset button in case of an alarm.
HBGS meets the requirements for gas leakage measurement in accordance with F-GAS regulation EU/517/2014. HBGS detects NH3 (R717) in a range of 0…1000 ppm. It is an independent unit that must be supplied with 24 V AC/DC. It has 3 built-in digital alarm outputs and 1 built-in analogue 4…20 mA output. The sensor can be configured using a PC with the HB Configuration Tool.


Technical data
Supply:
Voltage: 24 V DC ±10% - Max load 1.7 A
Connection: Cable terminals
Screwed cable connection: 2 x M12
Output:
Analogue output: 4-20 mA
Max. resistive load: 500 ohm
Digital output – relay: 3 x SPDT, 0,5A


Product advantages:
5-year stability guarantee for the probe. Simple to replace – does not require calibration
1 analogue output (4…20 mA) and 3 digital alarm outputs (SPDT, 1A)
Three alarm levels with LED display on the front
Can be used as a standalone solution or it can be connected to a leakage alarm system
Detects NH3 in the range of 0…1000 ppm